In search of first-class fuzz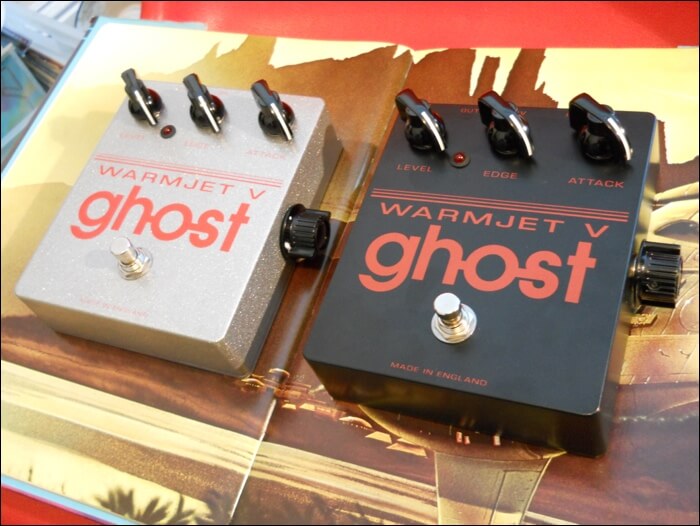 Fuzzboxes – where would rock 'n' roll be without them?
Almost since the dawn of the electric guitar itself, musicians have been devising ways to distort the sound the instrument makes. 'Fuzzboxes' – effectively small amplifiers designed to be overdriven – became the most popular means of achieving these effects. Early effects boxes used transistors to clip sound waves and prevent the natural decay of notes, leading to the distinctively distorted guitar tone heard on tracks such as The Kinks' 'You Really Got Me' and The Rolling Stones' '(I Can't Get No) Satisfaction'. Delay, sustain and wah-wah are just some of the more well-known foot-operated effects.
By a happy accident, Rapid sells almost all of the components that are needed for a maker of effects pedals – such as enclosures, foot switches, resistors, capacitors, potentiometers, diodes, knobs, batteries, jumper wires, op-amps and transistors – and we have many customers who rely on us for their products. Little did we know how prized some of our vintage transistors were until Marc Ahlfs of US-based Skreddy Pedals said a few years ago that we were his only global source for the BC npn highgain transistor.
Ian Sherwen, who makes and sells guitar pedals under the name Ghost Effects from his home in Birmingham, is an equally loyal customer of Rapid. He has always used effects pedals but it is only relatively recently that he has become involved in making them.
Ian's are an attractively-designed range of effects with names like 'Lunar Incantation', 'Warmjet V' and 'Silicon Pep Box'. They are usually inspired by vintage boxes which Ian embellishes, for example by adding features such as tone control through output capacitors.
From this, an Eddystone enclosure ...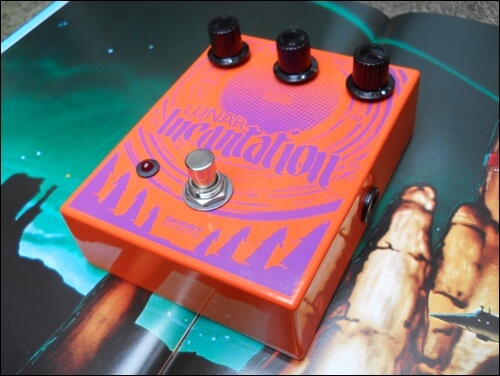 ... to this, the 'Lunar Incantation'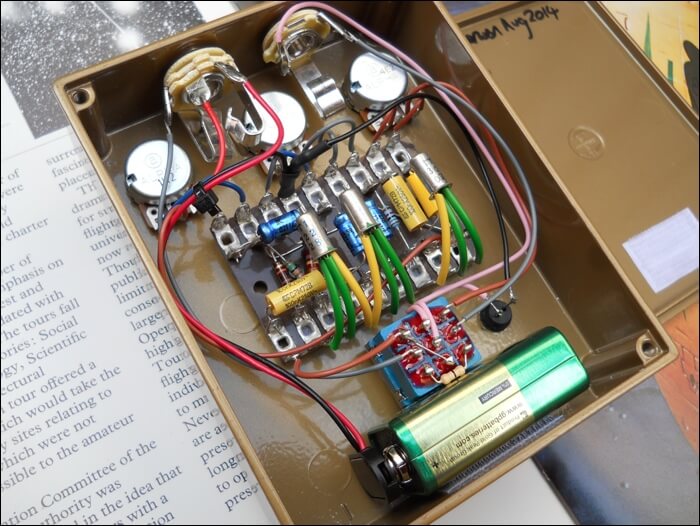 The circuit or 'guts' of a 'Dizzy Tone'
"The Warmjet is based on the WEM Project V pedal made famous by Brian Eno on his Here Come the Warm Jets album", says Ian. "It's still very much under the radar but Freddie Cowan from The Vaccines bought two last year." The 'Silicon Pep Box' is a version of the WEM Rush Pep Box from the 1960s that was allegedly used by The Beatles on Revolver, and was featured on some of the early recordings by Birmingham indie electronica band Broadcast. Ian's version is based on the original unit borrowed from Tim Felton of Broadcast/Seeland.
Ian takes as much care about the look of his effects as their 'guts' or circuitry. He uses nothing but 'Eddystone' die cast aluminium enclosures for his cases, having them professionally powdercoated and screenprinted with vivid colours and striking designs. You don't have to be a guitar player or even a big music fan to see the appeal of these hand-made devices, with their vintage switches, components and analogue audio aesthetic – or the satisfaction that comes from making and testing them.
So how did Ian get into the effects pedals business?
"I started off circuit-bending keyboards and children's toys to create musical instruments that I would use, influenced by Brian Duffy from the Modified Toy Orchestra. This led to making a few guitar pedals for myself and learning more about electronics in general, from books, manuals, and online resources. I started selling keyboards and pedals, mainly on Ebay. I soon decided to focus just on making guitar pedals around ten years ago"
Ian has some rich and varied musical influences, ranging from the ambient and psychedelic sounds of Can, Soft Machine and Brian Eno to the hard rock of Black Sabbath, the classic studio pop of The Beach Boys and alternative rock of Sonic Youth. He also plays guitar in his own band, Night Trips. As with many effects pedals makers, he is guided by a desire not only to reproduce the tone of his heroes but also to improve upon it. "I am interested in the circuits themselves, how they sound, what can be done to change what they do to the sound, how to maybe update the circuit into something more useful than the original it is based on."
Why 'Ghost Effects'?
"When I got the opportunity to clone an Elka Dizzy Tone from 1966-67 I decided I would do a run with screenprinted cases, so I had to come up with a definite name for the company. I went with 'Ghost Effects' as I was viewing the pedals as ghosts of old circuits. It seemed to make sense at the time and I think it worked great later on with the 'WEM' Ghost logo that designer Mark Murph did for me."
With a few exceptions, Ian sources most of his components from Rapid.
"I think the prices and customer service has always been good. I usually buy enough to get the free delivery which is excellent. There are some things I buy elsewhere but I think it's more important that I can get a lot of supplies all in one place."
Effects is a competitive market, with numerous independents like Ian competing with big names like Marshall and Behringer. However there still seems to be an open source spirit similar to the programming or 'maker' community, where knowledge is pooled and designs are shared. Ian makes a point of showing the circuitry of all his effects boxes and even sells some of the custom PCBs on eBay.