A SMALL BUSINESS WITH BIG IDEAS
Jennifer at work in her studio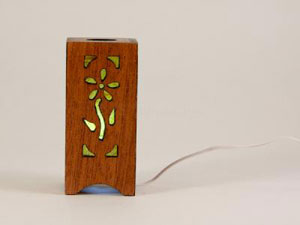 Laser cut lamp, lit with 3mm wide angle LED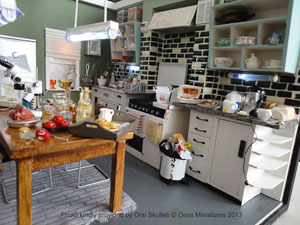 JS lights in the miniature Sherlock kitchen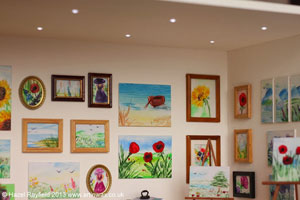 JS spotlights in a miniature art gallery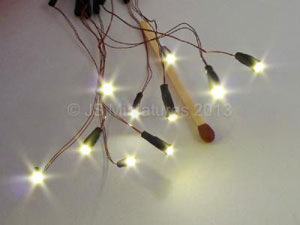 JS Miniatures pre-wired SMD chip LEDs
If you thought dolls houses were a relic from Edwardian childhoods, perhaps the work of Jennifer Smith can persuade you otherwise. She specialises in making electronic kits and LED-based miniatures which can be used as lighting effects in 1:12 right down to 1:144 scale dolls houses and other model hobbies. She has supplied and advised the makers of specialist dolls houses, model railways, boats and even
Star Trek
craft. Most of the LEDs Jennifer uses in her kits and integrates into her designs she buys from Rapid.
When Jennifer started her business JS Miniatures in 2010, it was the realisation of a long held dream. Naturally creative, she trained and worked as a landscape architect but became "bored of designing footpaths through local parks". It was when she turned 30 that she followed a different path. "I have always had a range of hobbies including painting, photography and woodwork and my job involved using AutoCAD (an industry drawing package), so I actually had quite a wide range of skills ideally suited to a craft based business. In March 2012 I was made redundant so it was the push I needed to give it a go full time".
Although as a child she decorated her first dolls bungalow with Georgian style furniture, the products Jennifer makes are more comfortable in modern interiors. The fashions of the day have always been reflected in its miniatures, and cutting edge design and energy efficient lighting are now de rigueur in dolls houses. Her products include complete lighting kits for individual or multiple houses, flexible strip and pre-wired SMD chip LEDs, as well as traditional and aluminium table lamps, minimalist coffee tables, bookcases, fireplaces and fabrics. She sells her products from two websites,
JS Miniatures
and
Small Scale Lights
.
"As I developed my product range I became more attracted to modern furniture and lighting", says Jennifer, who also runs workshops instructing people on how to integrate LEDs into their projects. "I realised that I could offer solutions that were modern in looks and function, providing lighting that was far superior to old fashioned filament bulbs, being brighter and longer lasting, but at a fairly low cost. With the huge range of LEDs available it's very easy to find one to suit most projects."
Lighting Sherlock's kitchen
Her most popular items are a range of nano SMD chip LEDs and 3mm wide angle LEDs. These are pre-wired by Jennifer and so ready to install. "The nano chip LEDs are perfect for model spaceships and 1:48 scale dolls houses and the 3mm LEDs are ideal for 1:12 scale lighting. Being pre-wired it makes it very easy for people to install the lighting and most of my customers are retired ladies who do not want the hassle of fiddling about with electronics!"
The diverse dolls house community consistently makes interesting demands on Jennifer's creativity. Recently she was asked to provide the lighting for a 1:12 scale replica kitchen of the BBC TV series
Sherlock
for Orsi Skulteti of Orsi's Miniatures. She supplied 3mm wide angle, bright white LEDs with enamel coated wire for the ceiling and under cabinet tube lights, a 3mm wide angle, warm white LED for the false window and 2 warm white nano chip LEDs for the fridge, all powered by 2 x AAA battery kits. The results were very successful as you can see on the right.
"My CAD skills have also allowed me to design products for laser cutting. This is another modern technique that is incredibly useful in the dolls house industry, especially for 1:48 and 1:144 scale houses."
Which of your projects has given you the most satisfaction?
"I recently had an enquiry from a customer who wanted to light a modern art gallery room box to display her wax paintings which she sells in full size and also miniature. I recommended using 3mm LEDs with clear lens clips to make spotlights for the ceiling, shop window and doorway and drew a layout plan in CAD as a template. The clips diffuse the light nicely and so the end result was perfect. It really gave her the effect she was after, providing lovely even lighting for the paintings. We were both delighted with how it turned out."
"I am also very proud of my lighting kit for 1:48 scale houses. As people run out of space in their (full size) houses the 1:48 scale is rapidly growing in popularity, but there was nothing on the market to light these dolls houses. I designed my own easy to use
battery powered kit
, which includes four warm white nano chip LEDs, one red chip LED, AAA battery box and connector. It's been popular at recent workshops and fairs and is a line I am looking to grow over the next few years.
Jennifer buys the majority of her LEDs, wire, components, heat shrink, battery holders and soldering equipment from Rapid. "I'm not an electrical engineer so I like Rapid's website because I find it really easy to find the products I want. The information is clear, the staff are helpful if I need some advice and the products are good value. With no minimum order value and really fast shipping it's perfect for a small business like mine."
While some things will always be small in this business, there is nothing miniature about Jennifer's talents or ambition.
http://www.jsminiatures.co.uk/
http://www.smallscalelights.co.uk/