HAMMOND MANUFACTURING: THINKING INSIDE THE BOX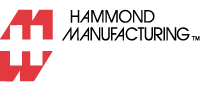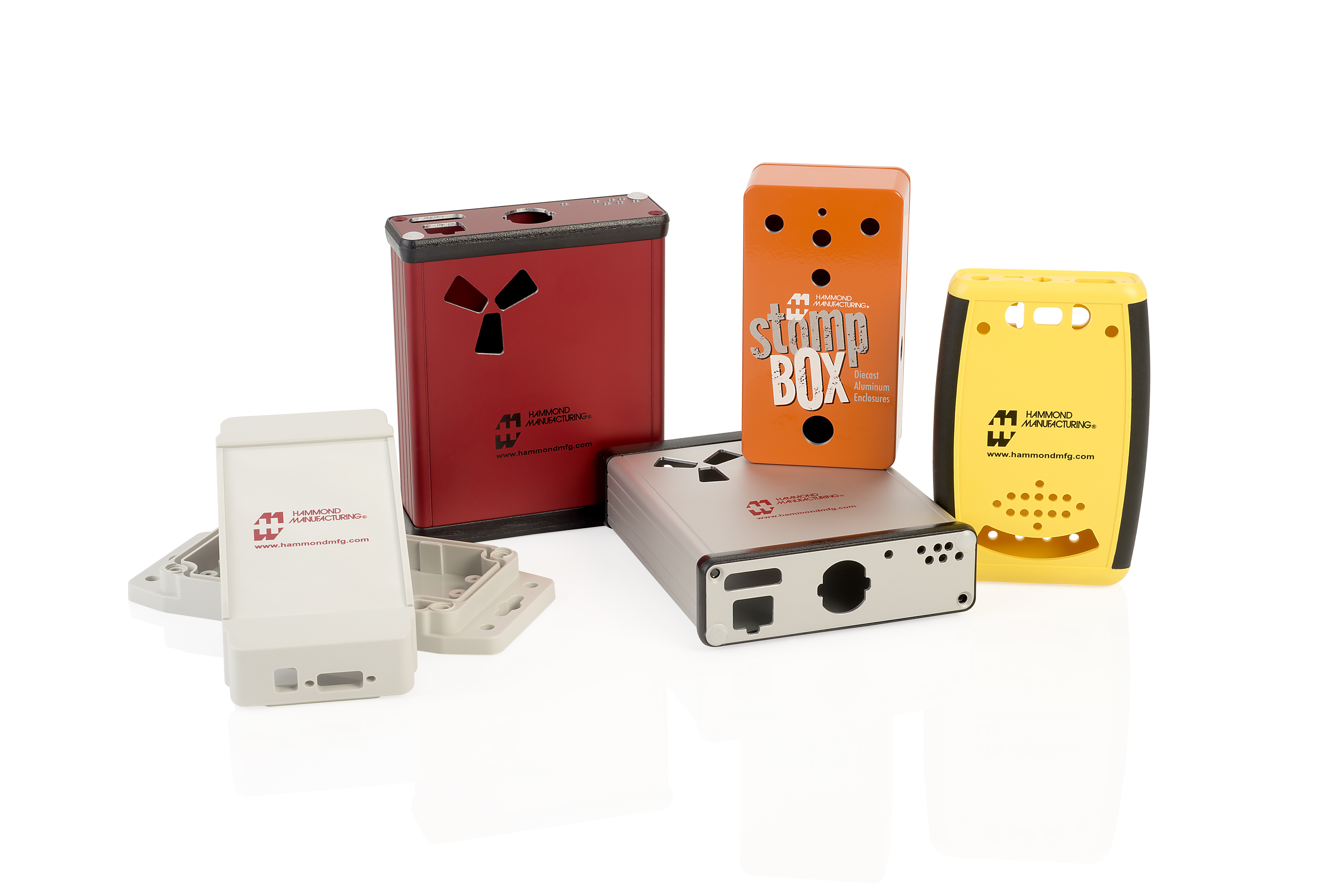 Rob Hammond (left), with James Bates, CEO of Rapid Electronics
Rob Hammond is the third generation of his family to head up Hammond Manufacturing, the enclosure and power solutions company founded by his grandfather Oliver S. Hammond in Ontario, Canada in 1917. But his forebears were English – and also entrepreneurs by nature. His ancestor William Hammond was a prominent 17th-century businessman who left England for a new life in America after the wool trade collapsed.
The enclosure industry is built on firmer foundations. On a recent trip to the UK Rob found the time to visit Lavenham, the picture postcard Suffolk village which his ancestor used to call home. But that is not the only reason he has a particular affection for this corner of England. It is only a short drive from Lavenham to one of Hammond Manufacturing's UK distributors, Rapid Electronics.
We caught up with Rob during his visit.
"We really appreciate what Rapid Electronics are doing for Hammond enclosures", Robert told us. "From their high service model to the ease with which they can add new product listings, Rapid has an excellent comprehension of what a high service channel needs to be. We've enjoyed watching Rapid grow into the business they are today and pleased to have been a part of it."
Hammond enclosures are suitable for housing many different types of electronic device and application, such as PCBs, audio equipment, guitar effects pedals and stomp boxes, industrial remote controllers, desktop switch arrays, safety equipment and hand-held test equipment controllers. The Hammond family of electrical enclosures include a vast selection of sizes, shapes, materials and finishes. Versatility is the key for all Hammond enclosures, and all series feature industry standard sealing and mounting configurations, fully compliant with IP54, IP65, IP66 and IP67 ratings.
While offering standard off the shelf products, Rapid is also able to offer its customers a new modification service that caters for bespoke requirements. Most electronic projects incorporate switches, connectors, displays and other components. Enclosures can be modified with cut outs and apertures, legend engraving, EMC coatings, bespoke colours and finishes, with a unique Rapid part number allocated to the finished product.
Some Hammond enclosures have become classics in themselves – the 1591, 1555 and 1554 series, not to mention the famous 'Eddystone' range: die cast aluminium boxes with the lap joint lid design and exceptional EMC performance which have been used in so many different applications.
What is it about Hammond enclosures that have proved so popular with customers, industrial and hobbyists alike?
"Perhaps it is because we design for the average guy", says Rob. "We produce enclosures 'from the inside out' – some might say the wrapping paper for technology".
Developing solutions as the market demands them is a key factor. "We can't always predict what's coming, as enclosures have to follow technology. But as a company we are set up so that we can react quickly to new developments." The fruits of that strategy can be seen in products like the 1593 HAM series of enclosures for single board computers, the HAMEGG series of platforms designed for the Arduino and every generation of Raspberry Pi, and one of the company's latest lines, the miniature USB enclosure.
There have inevitably been many changes since Rob has been involved in the industry. "The big changes are in materials, from metal to plastics to diecasts and into the technology of fast prototyping. There is more competition now than ever before, but also more opportunities."
Emerging technologies, M2M and the Internet of Things offer one of the most exciting new fields for enclosure makers. The sensors and circuits involved in outdoor IoT applications are enclosure-friendly, but there appears to be a lack of knowledge among OEMs and tech creators about IP ratings and the importance of ingress protection. Enclosure manufacturers have a big part to play with their product support as well as R&D.
"Ultimately we want to be the global leader in the enclosure industry"
"We have a very good working relationship with Hammond Manufacturing", says Janice Ratcliffe, e-mech product manager at Rapid. "I work closely with Rob and Hammond's European account manager Russell Irvine, to ensure customers have the best choice of products, pricing and service. We are reducing lead times for new stock and non stock deliveries and are also working on new value added services for customers, which we hope to confirm later in the year."
From small beginnings in a small Ontario basement shop, powered by steam, Hammond has grown into one of the world's leading names in cases, boxes and enclosures. In the inter-war years its key products were audio power amplifiers, radio battery chargers, radio transformers and metal cases, but it was during the 1960s when the company began to specialize in transformers and enclosures.
In 2001 the enclosure side of the business was rebranded as Hammond Manufacturing, while a new division – Hammond Power Solutions – concentrated on transformers. Hammond Manufacturing has grown into a worldwide operation with distributors in every corner of the globe – Canada, USA, Mexico, Europe, Asia Pacific, Australia and New Zealand, Africa and South America. Rapid stocks over 1,400 Hammond products in the UK, mainly in the general purpose and portable enclosure sectors.
There is an incredibly comprehensive and increasing choice of Hammond enclosures available at Rapid. They are some of the best you can buy for your application, whatever you are protecting your electronics from – dust, heat, flames, EMI or varying levels of water ingress. Customers love their ruggedness, strength, thickness, the range of sizes available and the way Hammond enclosures give a professional finish to projects.
"We are committed to introducing new products as technology evolves, continually adding more value to our proposition", says Rob. "There will be different materials, of course, but aluminium and ABS will be the cornerstones. Ultimately we want to be the global leader in the enclosure industry."
In 2017 Hammond Manufacturing will reach its centenary, but Rob Hammond is sure the emphasis will be less on celebration and more on continuity. "We will have a variety of small events for our associates, but we have to look forward and earn our right to be here for the next 100 years."