BIOSITE: INNOVATIVE SOFTWARE SOLUTIONS IN CONSTRUCTION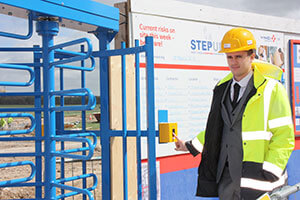 Integrated Technology Solutions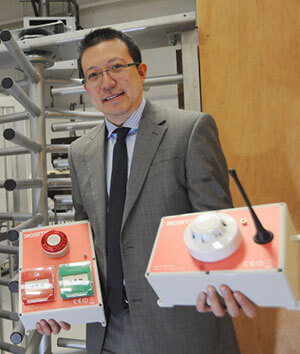 Biosite's Managing Director Li Wang
Security is paramount on construction sites. It is vitally important for site managers to control who gains entry and exit, as well as obtain accurate data on timekeeping and attendance, without slowing down productivity. This is where the work of construction software specialist Biosite comes in.
From fingerprint site access, fire safety and workforce management solutions, to CCTV and manned security services – Biosite's technology streamlines day-to-day operations, reduces cost and mitigates risk. Rapid has been helping Biosite deliver integrated technology solutions to the construction industry since 2011.
Biosite developed its flagship Access Control system to solve a key challenge. How do you increase the speed and efficiency of the site access process using a robust fingerprint-based system? Construction sites pose major challenges for traditional biometrics. Fingerprints ingrained with the dust and dirt of a building site do not make for an ideal biometric match.
However, utilising state-of-the-art fingerprint, wireless and cloud technologies, Biosite's Access Control System provides a secure, reliable and cost-effective solution to construction organizations. It can be used at individual project level to enhance security and provide accurate recording of workers or trades movements; however, it is when it is implemented at multiple sites that the full, real value of Biosite technology is unleashed.
Based in Solihull but with clients around the world, Biosite works closely with Rapid and is now one of Rapid's fastest growing customers. "I first became aware of Rapid when I was at university, so when we needed to buy components for our production runs I knew where to turn," says Biosite's Technical Director Greg Reynolds."We use a variety of products from Rapid in the Access Control system. Primarily connectors and related components such as glands and spacers but we also buy LEDs, LED holders, pluggable terminal blocks, screw terminal blocks, IP68 glands, mains breakers, PCB supports and spacers."
"Rapid provide a wide variety of compatible connectors that are often much better value than the normal branded ones. Unlike many cheaper components, the connectors from Rapid appear to retain performance without sacrificing too much quality. We also use the connectors in our turnstile controllers and wireless fire alarms," says Reynolds.
"End column pricing has enabled us to continue manufacturing our PCBs in the UK"
Website usability and price are cited by Reynolds as two of the factors that he most appreciates about Rapid.
"It may sound a bit obvious, but I do like the pictures on the website! The clear, high quality images really help to narrow down the search when selecting new components. Rapid are also very competitively priced which facilitates our UK manufacturing operation."
Biosite works very closely with its account manager at Rapid, Elise Atkinson, identifying future product requirements and stock opportunities. "After visiting our premises and understanding our products, Elise appreciated our potential enough to offer us end column pricing on all our purchases", says Reynolds. "This has enabled us to continue manufacturing our PCBs in the UK at genuinely competitive prices." End column pricing is Rapid's most generous pricing structure. The unit price customers pay, even for one component, unit or reel, will be the same as if they were buying the quantity of the final price break.
"Working with a client like Biosite is exciting as they are always open to suggestions of emerging technologies that can be used innovatively in their designs", said Atkinson, Rapid's account manager for Central & Southern England. "These can make their products stand out from the crowd. For example, switching from a standard STN to OLED display so it can be read easily in sunlight on site was a small change – but it made a big impact on the overall end equipment."
"We tend to buy for stock and then make circuit boards to meet demand from our customers", Reynolds says. "We normally buy for production quantities in short batches of around 100 to 1000 boards, depending on what product the board is for. Our boards often share components so we buy in bulk to cover a variety of different products. The terms we have at Rapid make that more attractive for us."
Enhancing health & safety, reducing cost and mitigating corporate risk for the construction industry
Biosite was founded in 2010 in order to develop the hardware and software of its flagship product, the Access Control System. "We identified that there was a huge gap in the market", according to Managing Director Li Wang. "The system has completely transformed workforce management and security within the construction industry as site managers are now able to accurately monitor how many workers are on site at any given time, and can also permit or restrict access more efficiently."
Biosite's integrated technology solutions have since been installed at over 200 construction sites, including those managed by some of the biggest names in UK construction, such as Wates, Kier, Balfour Beatty and Galliford Try, which has recently used the system on the Tollbar End highways improvement project in the Midlands. With in-house research, software development and production capability, Biosite is uniquely positioned to respond rapidly to customer needs and the ever-increasing health and safety requirements of the UK construction industry.
"We are incredibly proud of what we have been able to achieve at Biosite", says Reynolds. "One of the things that has made our success possible, in addition to having exceptionally talented staff, is that we have outstanding suppliers like Rapid that are as flexible as we need them to be and whose product range gives us a huge range of buying options".
www.biositesystems.co.uk