PIX ELECTRONICS: BESPOKE CONTROL SYSTEM, PCB DESIGN & PCB ASSEMBLY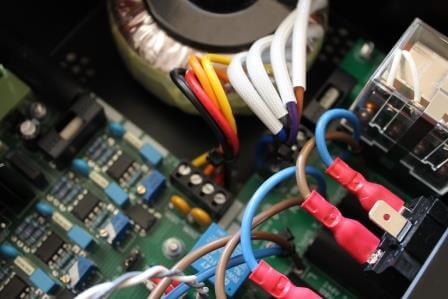 Mark at work in his studio
While Rapid does business with customers from all over the UK and the world, it is always a pleasure to supply successful local businesses or start-ups: the well-known faces we see regularly in our trade counter, collecting their latest order or just popping in to pick up some essential components. One such person is Mark Skellett, who is based in Sudbury, Suffolk, about half an hour's drive from our Colchester headquarters.
After 35 years working in engineering at various levels, Mark launched his own business, PiX Electronics, in April 2015. PiX develop electronic and electromechanical control and monitoring solutions for small to medium sized businesses, designing and manufacturing all aspects of the project – the printed circuit board assembly, software, wiring interfaces and enclosures. The company also have a few products of their own. These include an electronic thermostat for temperature control in outdoor rooms, a liquid leak detection device and a temperature sensitive speed control for EC fans.
It was obviously a risk but what inspired Mark to finally go it alone?
"I just wasn't being creative anymore. I had progressed in my career, but to the point where I was no longer doing the things that made me want to work in electronics in the first place. As owner of a small company the reduced level of administrative and personnel duties creates much more space for me to develop innovative solutions for clients who operate in a diverse range of markets."
"Throughout my career I have been responsible for developing electronic and electromechanical solutions for industrial and consumer products; this is what we focus on at PiX."
Their clients tend to operate in a diverse range of industries including web-server infrastructure, ventilation and consumer electronics. "Many are small companies with great products or ideas but lack the internal expertise to develop control and monitoring solutions. This is where we come in."
Although PiX Electronics is less than a year old, they have already worked on a number of interesting projects. These include designing a heating/cooling controller with 0.5 degree Celsius hysteresis, used to control the temperature of commercial greenhouses, aviaries, reptile houses and cheese storage. They have also developed a low cost, modular speed control to regulate the speed and performance of fans in ventilation systems. The solution provided their client with failsafe operation, temperature dependent speed control and integration with building management systems.
"We also worked with a client to produce a failsafe system for a 19" rack cooler, which gave their application closed-loop control of air movement, failure monitoring and worldwide voltage capability. This now helps to keep data centres across the world carbon friendly."
PiX's latest project is a range of customised shields for the Raspberry Pi and other microcomputers. "Clients appreciate the reduced development time and low cost these computers bring to commercial applications but of course need interfaces specific to their product."
What is the best thing about what you do?
"We strive to take the pressure off our clients' design or innovations departments; together we develop their brief into a workable solution, maintaining close contact throughout the process whilst adding expertise in the electronics field which they may not have. We are immensely proud of the part we play in developing their finished product and love to see the first prototype come together."
As PiX's biggest supplier, Rapid is delighted to give them the opportunity to develop their products. "Rapid Electronics provide us with just about everything we need. Their range of electronic discretes, connectors and hardware is very impressive and being so local to us means that we make good use of their trade counter. Above all, the fact that Rapid's pricing is so competitive is something which we can reflect in our own prices."
What does the future hold for PiX Electronics?
'Over the next five years we aim to develop a wider range of our own products, but our core business will remain the provision of control solutions for OEM's," says Mark. "As our client base grows we will expand accordingly, providing valuable jobs and training opportunities in the local area."
If you have a requirement for PCB Assembly or Control system design services, Mark would love to hear from you. Voucher codes are available on the PiX Electronics website offering discounts of up to £350 on production orders for new customers.
http://www.pixelectronics.co.uk/