PAUL'S CUNNING PLAN FOR SOFTWARE DEVELOPMENT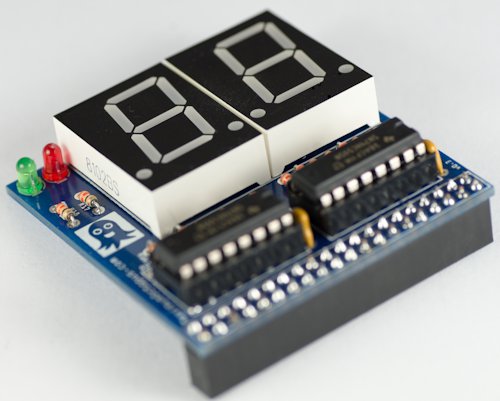 7-Segment Raspberry Pi Breakout Board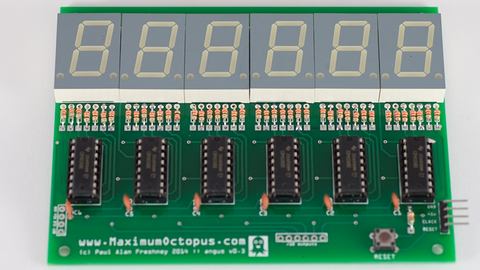 6-Digit 7-Segment "Angus" Counter Kit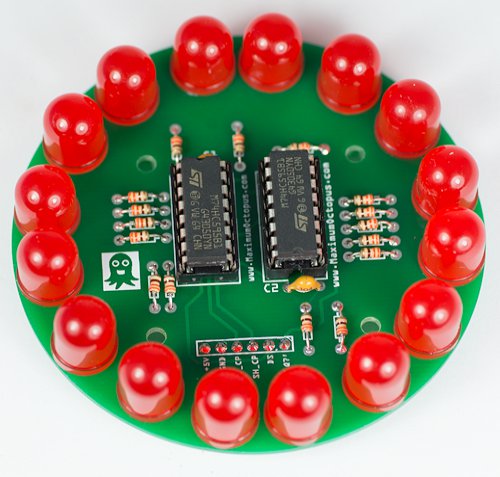 16 x 10mm LED Circle "Cooper" Shift Register Kit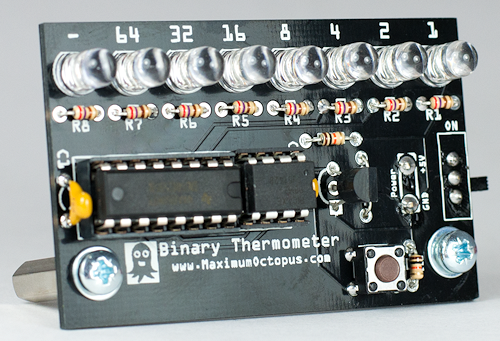 Paul Freshney is certainly a multi-tasker. A software developer since the early 1990s, he also produces microcontroller-based electronic kits that provide instruction at all levels of programming and circuit-building, as well as coding gaming and educational apps. So busy is Paul with coding, programming and kit-building, in fact, that his clients might think that he has more than one pair of hands – it is not for nothing that he calls his business Maximum Octopus.
While he cites legendary Aussie electronics video blogger Dave Jones as an inspiration, seasoned
Blackadder
fans may have already spotted Paul's other influences.
His trading name, a play on soldering helping hands, also tips the wink to Baldrick's 'Magnificent Octopus' – the semi-autobiographical novel that consists of a solitary line. "That stuck with me for years," says Paul, "but I could never remember the first word of the phrase ... and hence Maximum Octopus was born!"
Thankfully Paul's body of work is considerably more voluminous. His range of hardware includes a comprehensive range of LED-based kits, educational project kits and breakout boards for prototyping and the Raspberry Pi, add-ons for microcontrollers as well as specific software applications for use with PC, Mac, smartphone and popular prototyping platforms. He designs IOS apps and has developed a range of analysis tools and educational and utility applications. His Xinorbis hard disk analysis tool is featured in magazines at least twice a year.
While 'Maximum Octopus' has been active for nearly two years, Paul's love affair with computers goes back much further. "I've been programming since I was only 8 or 9 years old – I started on the Commodore 16, then moved on to the Commodore 64, Amiga 500 (where I taught myself Assembler), A1200 and moved over to PCs in the mid-1990s. I wrote my first commercial application around 1992, a public domain catalogue on the Amiga for a local computer shop."
He worked full-time as a software engineer for 11 years before he made the decision to turn his hobby into a full-time business in November 2014. It sounds like a move he doesn't regret. "I work from home. I can get up and be in the office in five minutes. I get to play with computers and electronics and generally do lots of exciting things, all day, every day."
Paul firmly sees himself as a developer rather than a kit maker. "Without the software there would be no hardware. There's a lot of development involved with my electronics kits of course. I have to create the example code for several platforms (with more being added as new platforms become available), so the software side will always take up the most time. I simply can't see a time when I won't have a software project of some kind on the go. I've been doing it so long that it's second nature now."
"If Rapid couldn't supply it I would think twice about including it"
Although he has always been interested in electronics, Paul only started working with microcontrollers in 2009 and has been making kits for about a year. "I bought a PICAXE development kit and that was a real revelation. It started a microcontroller mania which is still going strong today. I currently have 11 development boards on my desk!"
"I enjoy the process of developing a kit, the combination of electronics design and software development is like magic. I still remember my first ever project: a single flashing LED, simple and probably the thing that most people start out with – but it's still awesome!" Paul's kits are designed to be easy to build and program, and he offers free build instructions and source code for each project, giving people the opportunity to make the kits independently even if they do not buy them from Paul's website. Among Paul's products are LED-based kits that can be driven by a range of microcontrollers such as Arduino, Espruino, PICAXE, PIC and Raspberry Pi, providing a variety of usages for decorative and functional projects. His breakout board kits are ideal for prototyping shift register based projects, real time clocks, debugging, indication and 555 timing.
Rapid is key to Paul's products. He buys resistors, ICs, capacitors, sockets, connectors, switches and other components. "There isn't a supplier that can offer me the selection and prices available at Rapid. None of my kits require anything that you can't supply. In fact, if Rapid couldn't supply it I would think twice about including it in a kit."
www.maximumoctopus.com