Global distribution opportunities with Rapid
Did you know that you could become an official distributor of Rapid products?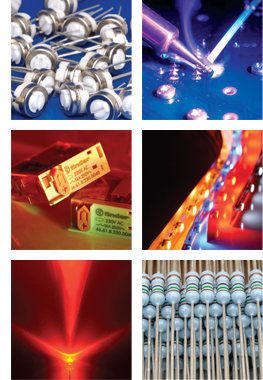 If your business has international distribution experience in our product areas, we are keen to hear from you.


From ABS enclosures to Zener diodes, we have a huge range of products in demand across industrial and educational markets, both of which we serve with the highest standards of customer care and expertise. We sell some of the biggest brands in specialist electronics, such as Kingbright, Adda, Microchip, ST, Bourns, NIC, Xytronic, Vishay and Murata. We also have close links and strong relationships with key suppliers in the Far East.


We also stock our own range of competitively priced brands. Our Tru ranges offers competitively priced component solutions to suit every budget. Our products include extensive supplies of LEDs, semiconductors, resistors and connectors, and the selection is expanding all the time.


As an international distributor you would benefit from reduced pricing and exclusive terms of business. Rapid already have a number of global distributors but we are always looking for more as our industry and educational divisions continue to grow. Wherever you are in the world, we are keen to hear from you.


If you are interested in further information about opportunities within Rapid's industry division outside of the UK, please contact:
Export Department
Email: exports@rapidonline.com
Phone: +44 1206 835577


If you are interested in further information about opportunities within Rapid's education division, please contact:
Chris Calver
Email: chris.calver@rapidonline.com
Phone: +44 1206 751166
3-IN-ONE
3M
Aavid Thermalloy
ABB
ACT
Adaptaflex
Adda
AEG
Alpha Wire
Ambersil
AMP
Ansmann Energy
Arcol
Arcotronics
ART Programming
Systems
Assemtech
ATC Semitec
Atmel
Bahco
Belden
Bergquist
Bernstein
Black & Decker
Bondline
Bostik
Bourns
Brennenstuhl
Bulgin
Camden Boss
CDIL
Cinch
City Hand Tool
CK Tools
Click
Cliff
Contralube
Connectix
Cooper Bussmann
Coopertools
Daler-Rowney
Dallas
Daylight Company
DC Components
DeWalt
Dialight Lumidrives
Digimess
Diotec
DMS Technologies
Dormer
Dow Corning
Draper Tools
Dremel
DSG Canusa
Duracell
ECE
Eddystone
Edicron
Edu-Lab
Elan Digital Systems
Electrolube
Elkay
Energizer
Erem
Ersce
ETA
Eveready
Fairchild
Semiconductor
Fastron
Ferraz Shawmut
Fibox
Finder
Fischertechnik
FLIR
Fluke
Forever
GE Lighting
GENIE
Good Sky
GP
GW Instek
Hammond
Harting
Harwin
Haze Batteries
Hellermann Tyton
Hirschmann
Hi-Watt
IMO
Inalways
International Rectifier
Intersil
Iskra
Isocom
ITW
Jacob
JSP
Kemet
Kern
Kewtech
Keystone
Kingbright
K'Nex
Konek
Kontakt-Chemie
Labfacility
Lascar
LeCroy
LEGO
Lewden
Lindstrom
Littelfuse
Loctite
LogIT
LPRS
Lumberg
Magnatec
Martindale
Matsushita
Maxim
Meccano
Mega UK
Megaman
Metabo
Metway
MFA
MH
Microchip
Microtherm
Mita
MK
Moeller
Molex
Multicore
National Semiconductor
Neutrik
NIC
Nicera
Nichia
NXP
OEP
Omeg
Omron
ON Semiconductor
Osram
Panasonic
Papst
Pentel
Pico
PJP
Plasti-Kote
Power Pax UK
Powertip
Pritt
Pure Energy
Raaco
Rapid
Really Useful Products Ltd
Rean
Recom
Revolution
RFVM
Richco
Robnor
Rolson
Ryobi
Saft
Samwha
Schaffner
Schurter
SCI
Sealey
Sellotape
Semikron
Shin Chin
Shrinktek
Siba
Socket & See
Sony
Spectrol
ST
Staedtler
Stanley
Storm
Superswitch
Swann Morton
Switchcraft
Taiway
Telemecanique
Texas Instruments
Thurlby Thandar
Timeguard
Toshiba
Treston
TruCap
TruConnect
TruMotion
TruOhm
TruOpto
TruPower
TruSemi
TruSens
Trust
TruTie
TruXtal
Tyco
Uniross
Uni-T
Varta
Velcro
Velleman
Vigortronix
Visaton
Vishay
Vulcascot
Warton Metals
WD-40
Weller
Yuasa