#What will you create?
3Doodler is a handheld 3D printing device that can be used in minutes without any technical knowledge, software or computers.

Compact and easy to use, the 3Doodler allows you to draw in 3D, whether you are sketching freestyle or tracing shapes from a template to make larger structures and objects.

As you can see by the picture (right), the new 3Doodler 2.0 is sleeker and lighter than the original 3Doodler. It is also quieter and more efficient.

Its double-click function gives continuous flow, so that you can doodle non-stop without having to hold down any buttons.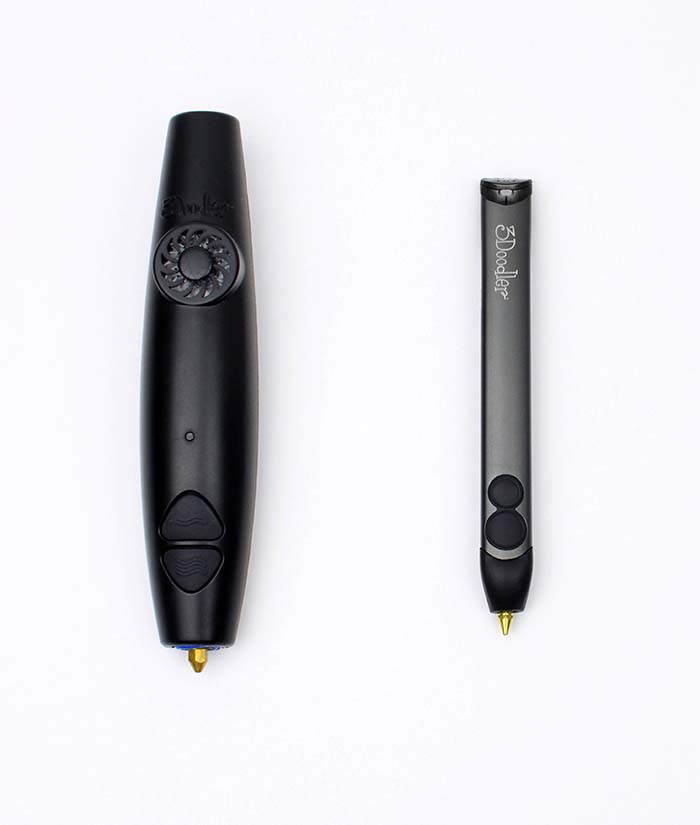 How does it work?
3Doodler works on the same principle as a 3D printer – the pen has a heating element inside it which melts either PLA or ABS plastic filament. The pen then extrudes a thin line of plastic with which you draw your creations. The plastic quickly cools to form solid shapes. With just a little bit of practice, you can create your own 3D masterpieces
Handheld 3D drawing pen
Compatible with PLA and ABS filament
3Doodler is supplied with pen, protective cover, power supply and 2 packs of filament
Various filament packs available separately – all filament packs contain 25 x 254mm strands
Image Gallery
Downloads