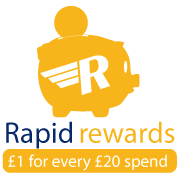 Rapid Rewards
-Make your budget go further by making Rapid your number one educational resource supplier
Whether you are purchasing robots or retort stands, electronics or exercise books, the Rapid Rewards scheme enables you to earn money off orders for your school when you buy from Rapid. Every pound that you spend with us goes towards your Rewards at the end of the year.
Once you are registered with Rapid Rewards, we'll give you £1 for every £20 that you spend. Points can be collected from 1st August until 31st July and can be redeemed between 1st June and 31st July.
There is no limit to the number of points your school can collect so the more departments that use Rapid as a supplier, the greater the rewards.
Register now to start collecting points for the 2015/2016 academic year
Terms and conditions
You must be registered with Rapid Rewards in order to collect points
Register by 31st August 2015 and your points will be backdated for spend from 1st August 2015. Registrations after 31st August 2015 will start collecting points from the date of registration
You must register with a school or college e-mail address
One contact per school can register. If you wish to change your contact, please e-mail education@rapidonline.com
Rewards for the year can be collected from 1st August 2015 and can only be redeemed between 1st June 2016 and 31st July 2016. Any Rewards not collected by 31st of July 2016 will be lost
Reward Points will not be awarded for goods purchased with Reward Points.
Reward Points cannot be redeemed in conjunction with any other offers
Reward Points will be deducted against the order total (INC VAT)